Begin One Way: A Children's Book of Road Signs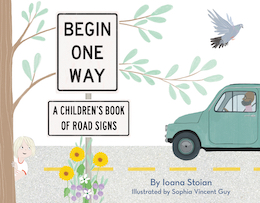 Enjoy a walk through an urban neighborhood guided by a child eager to share their love of road signs. By the end of this journey, children will be familiar with many common road signs and their meanings. This book encourages children to be curious about the world they inhabit, inspires them to explore their own neighborhoods on foot, and empowers them to participate in daily activities like crossing the road safely. The rhyming text and whimsical hand- drawn illustrations will engage and appeal to children and adults alike.
ISBN 978-0-9576192-2-7
Hardback 40 pages
Publisher Busy Hands Books (June 2022)
Age range 3-8 years
Language English
Format 11" x 8.5"
Price $17.95
Printed and bound in the USA using FSC-certified sustainable paper